Improve UX: What to focus on heading into 2022
45.9% of companies are prioritizing customer experience (CX) as part of their business growth strategy.
With customers becoming increasingly comfortable with and reliant on digital channels, optimizing the user experience (UX) is a key element to creating better online buying experiences. But the marketplace is constantly changing and so are customer expectations. Companies are finding that strategies that delivered returns even a few months ago, no longer have as much of an impact.
Research clearly shows the importance of continually getting CX and UX right:
Price Waterhouse Coopers (PWC) indicates that 86% of customers are willing to pay more for great CX. These gains can be as much as 13% to 18% more for luxury products. There is a huge opportunity for revenue gains by getting UX and CX right.
Additionally, a more personalized CX is responsible for 49% of customers making on-the-spot purchasing decisions. This means that a great UX combined with personalization can deliver immediate gains.
Common UX Mistakes
Measurability
When looking to improve UX as part of a strategy to increase revenue, changes that are made need to be measurable otherwise, it is very difficult to determine if the changes have any impact. When looking to optimize for specific key performance indicators (KPIs) such as average order value (AOV) or conversion rates, it's best to start with UX improvements that are closest to those metrics, i.e. the shopping cart, rather than the very beginning of the customer journey or more commonly the top of the funnel.
Understand digital users
People who shop online, have different expectations versus those who shop in store. When aiming to improve UX, brands need to take the time to understand who is visiting their website, what they're looking for, and what elements of the online experience are important to them. Instead of focusing on what is thought to need improvement, brands would do better to put themselves through the online buying process and experience first-hand what works and what causes frustration in the UX.
Channel responsiveness is not enough
Mobile, desktop, and tablets each offer a unique type of UX and corresponding challenges. Ensuring a website is built using a responsive design doesn't necessarily account for how visitors use each digital channel. For example: a touchpad on a laptop has a very different experience to the gestures possible on the touchscreen of a mobile phone or a tablet. Understanding what makes the experience different helps generate ideas on how to improve UX for each specific digital channel and its devices.
Changing everything
A whole page redesign may seem like a good way to start afresh. The problem is that when changing everything, it becomes very difficult to pinpoint which elements on the page are making an impact. Instead by making a few small changes that can be linked to specific KPIs, it becomes possible to measure the impact of the changes. Those results inform a better page redesign because they're more focused on effective UX.
Why Experimentation Is Essential to Improve UX
Relationships are formed through interactions and while brands may aim to serve up consistent experiences to customers across all channels, it's important to understand that customers don't always want to interact with brands in the same way. Think of it as having a conversation with an old friend. It's unlikely you'll talk about the same things in the same way every time you meet. Similarly customers expect online interactions to be unique and relevant to their current needs and circumstances.
This is one of the reasons there's an increased interest in personalization. Customers don't want to waste time looking for what's relevant, they expect brands to know what they want. Having customer information such as demographics or past purchase history, is somewhat useful, but not as useful as real-time visitor responses. Experimentation is the best way to leverage user responses and gain meaningful insights to improve UX in the process.
Improving UX is highly complex. There are so many different elements that impact UX and each small change can have a positive or negative influence on progressing visitors through the customer journey. As an example: When looking to improve a Call to Action (CTA) button, it's not just the text that matters, but also the size and color of the button and its location on the page. With this in mind, what's the best starting point?
Continually Learn from Customer Data
The best approach is to identify specific KPIs for improvement and then consider what elements of UX can contribute to achieving those metrics. Start at the point in the customer journey that can have the most impact, learn from those customer responses and continue to improve from there. Leverage technology such as artificial intelligence (AI) and machine learning (ML) that can connect the dots between UX and improve KPIs through experimentation at scale. AI can learn from each response to continually improve UX and deliver frictionless customer experiences. The ability to experiment with many different ideas, as well as variations and combinations of ideas gets brands much closer to delivering the unique experiences customers want.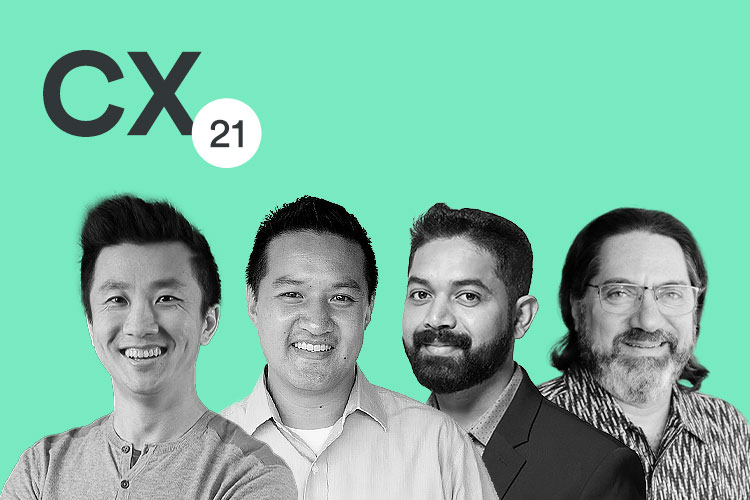 Webinar
Think CX, Part 21
Delivering on the CEO's innovation agenda
Wednesday, Feb. 16, 2022 at 10 a.m. PST
Register Now
Subscribe
Get updates as we post industry relavent content to our blog