4 min read
Coming Soon! New Features on the Re-Architected Evolv Platform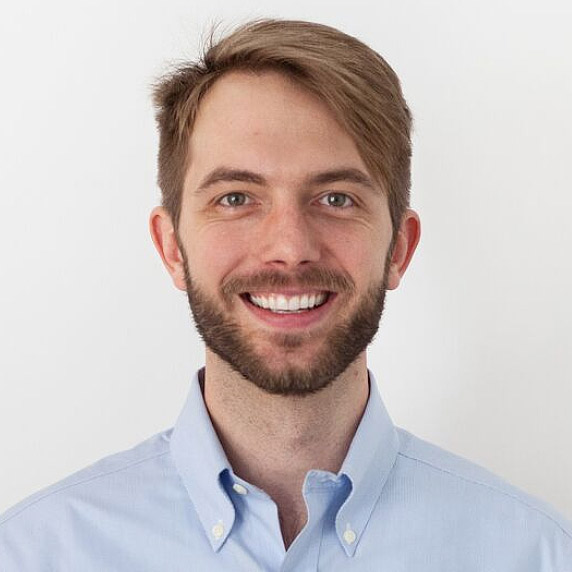 Kash Bennett : 05/28/20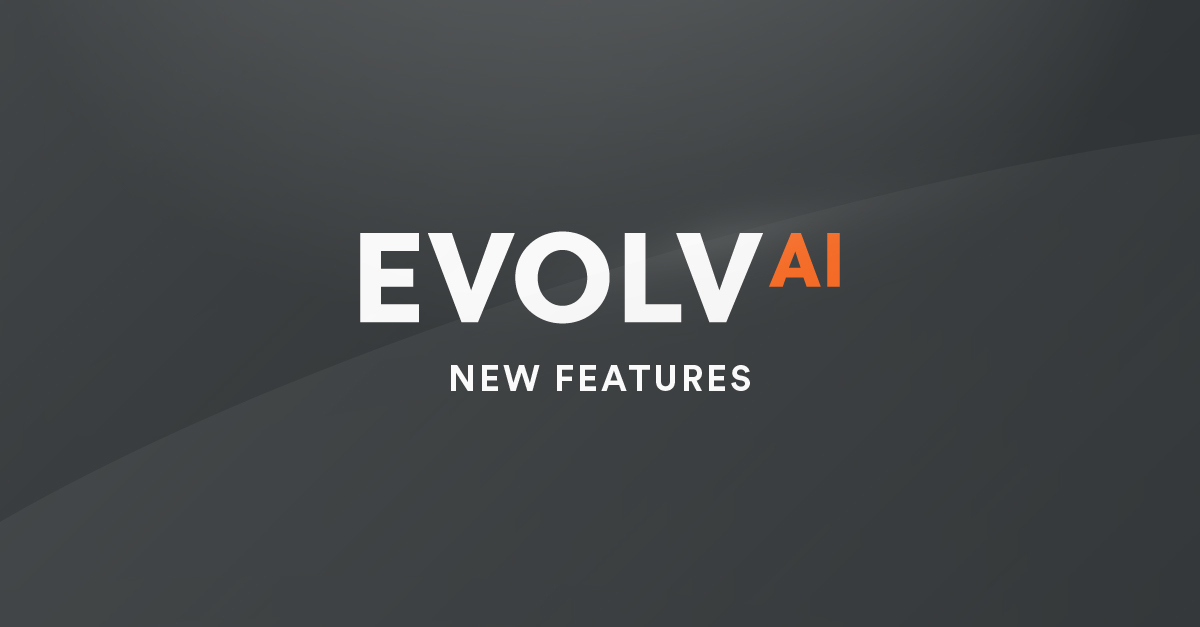 The Evolv Manager, announced last month, is the foundation for two new features we're announcing today: Continuous Optimization and Experience Accelerator. Both are available as part of an early adopter program and are described in more detail below. If you're a current Evolv AI customer interested in these new capabilities, please contact us to join this program!
The concept of using experimentation to improve digital experiences isn't new.
Way back in 2000, Google started running A/B tests to determine how redesigning elements of its homepage could make the experience of using its search engine more efficient. Since then, companies everywhere have wholly embraced the promise of experimentation, building out dedicated cross-functional teams and trying to infuse a culture of experimentation into the very fabric of their business.
These companies have also invested in a variety of testing tools in the hope of driving real impact on the business. But in most cases, these testing tools haven't been able to live up to their lofty promises and haven't enabled companies to succeed with all of their experimentation aspirations. This is for a few reasons:
The testing methodologies they're built on are scientifically sound, but are predicated on having lots of failures and running tests for long periods of time to hopefully arrive at impactful results
It's difficult to keep track of multiple experiments running simultaneously, let alone prevent them from interfering with each other
They don't enable a nimble mechanism to experiment with lots of ideas
Evolv was founded to address these challenges and to truly help companies perfect the customer experience, or CX. Today we're pleased to announce that our platform has been re-architected to serve as the foundation for two exciting features: Continuous Optimization and Experience Accelerator. Our customers benefit from a platform that helps continuously optimize and deploy high-performing experiences, and a new way to run experiments on web pages in a way that's fast, stable, and secure.
Continuous Optimization: What is it?
If running enough A/B or multivariate tests can help you design the highest-converting customer journey, you can finally dust off your hands and declare victory, right?
Wrong.
That statement would be true if we lived in a static world. But in the real world, everything's constantly changing: consumer behaviors and trends, economic factors, competitive pressures, seasonality, the products and services you have to offer, and so much more—so there's never a point at which you can simply stop experimenting and call it a day.
The very nature of A/B and multivariate tests makes them fundamentally flawed given how fast things change, since these tests are all based on a start-stop mentality. Moving away from testing methodologies that have a defined beginning and end opens up the door for companies to consistently deliver the best customer experience.
That's why the Evolv Platform was built from the ground up to support a continuous optimization model. Utilizing machine learning technology, Evolv Continuous Optimization avoids the problems associated with start/stop testing tools by letting companies experiment with all of their ideas, everywhere, all the time.
Compared to A/B and multivariate testing, Evolv Continuous Optimization has several advantages. This table sums it up neatly: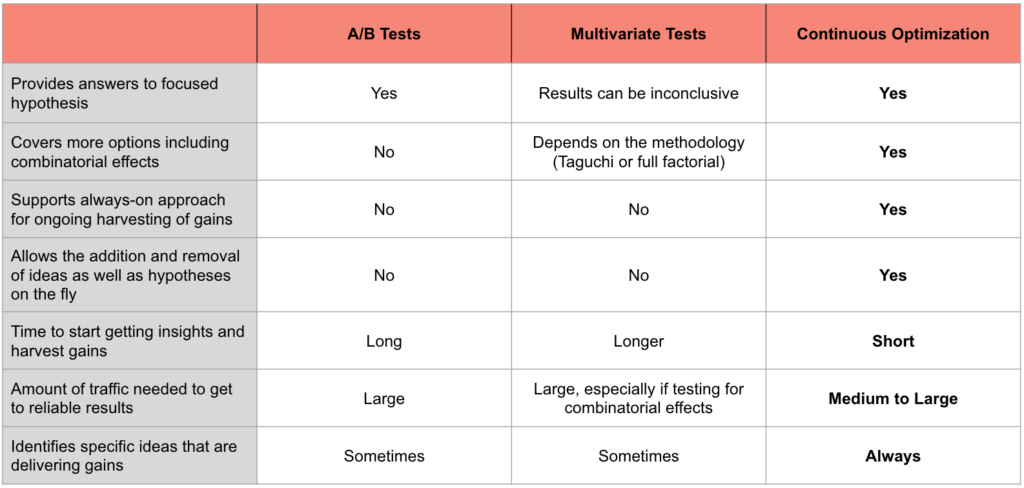 How can I get my hands on it?
We designed continuous optimization to be a seamless transition for current Evolv customers.
Existing customers don't need to wait to experience the future of digital experience optimization—it's ready to use now. And when continuous optimization is turned on, a running project maintains existing learnings and does not require reinitialization.
Experience Accelerator: What is it?
Even with the rise of mobile app and server-side experimentation, websites are the first place every company usually starts experimenting. Websites are accessible from both mobile and desktop environments; they're platform-agnostic, rendering identically regardless of a user's OS; and the number of elements to experiment with are nearly endless.
In order to start experimenting on your website, most digital experience optimization tools typically require you to embed a JavaScript snippet into the header of every page of your site.
This is a simple and easy implementation method, but it's no longer optimal.
First, the JavaScript file is typically hosted on a server you don't control, making your website vulnerable to third party JavaScript injections. And second, the large JavaScript file needs to be downloaded onto the client device, which can slow down the experience and result in undesirable "screen flash."
Evolv takes a new and innovative approach. It provides an alternative to using heavy JavaScript files that the user's browser has to download. This is especially useful for companies that may have strict security requirements that prohibit third party-hosted JavaScript, and it also allows for a cookie-less implementation. We call this the Experience Accelerator.
Evolv's Experience Accelerator is…
Fast. It eliminates the system overhead caused by a traditional JavaScript implementation, which typically increases load times, produces screen flashing, and degrades the user experience.
Stable. It delivers the performance of a native integration while offering the ability to support dynamic experimentation. It also makes experimentation compatible with Single Page Applications (SPAs), such as REACT and Angular.
Secure. Since Experience Accelerator operates on your own server, concurrently with the rest of your website, you don't need to worry about a JavaScript implementation serving as the vector for a third party code injection. Additionally, it complies with intelligent tracking prevention (ITP), a user privacy tool included with browsers that use the WebKit rendering engine, like Safari.
How can I get my hands on it?
Just like Continuous Optimization, the Experience Accelerator is ready for our customers to start using, and we're eager for your feedback. It requires the Evolv Manager and will be standard as part of all new deployments of the Evolv Platform.
---
Optimizing the digital experience has never been more important, especially with the use of all kinds of digital services spiking. And companies today recognize that delivering a stellar CX through rapid experimentation is key to solidifying their place in the digital economy.
As Greg Shaffer, Executive Director of Product and Data Science at Edmunds.com said on one of our recent Think CX webinars, "If you're not testing the changes you're making, you don't actually know if those changes are building a better experience for your customers and accelerating growth for your business."
The Evolv team has been hard at work building a platform that enables companies to go beyond start/stop testing and truly experiment at an unprecedented speed and scale — with all of their ideas, anytime, anywhere. Evolv's Continuous Optimization and Experience Accelerator will soon join the Evolv Manager and the platform's advanced reporting capabilities to deliver a complete digital experience optimization solution.
Contact us today to make sure you are running the latest Evolv Platform and to find out how you can join our early adopter program to start using Continuous Optimization and Experience Accelerator.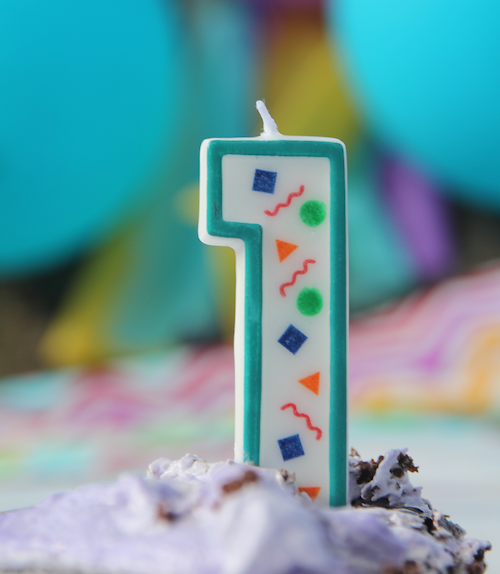 2 min read
Evolv's CEO, Michael Scharff, sent this email out to the Evolv team earlier this week.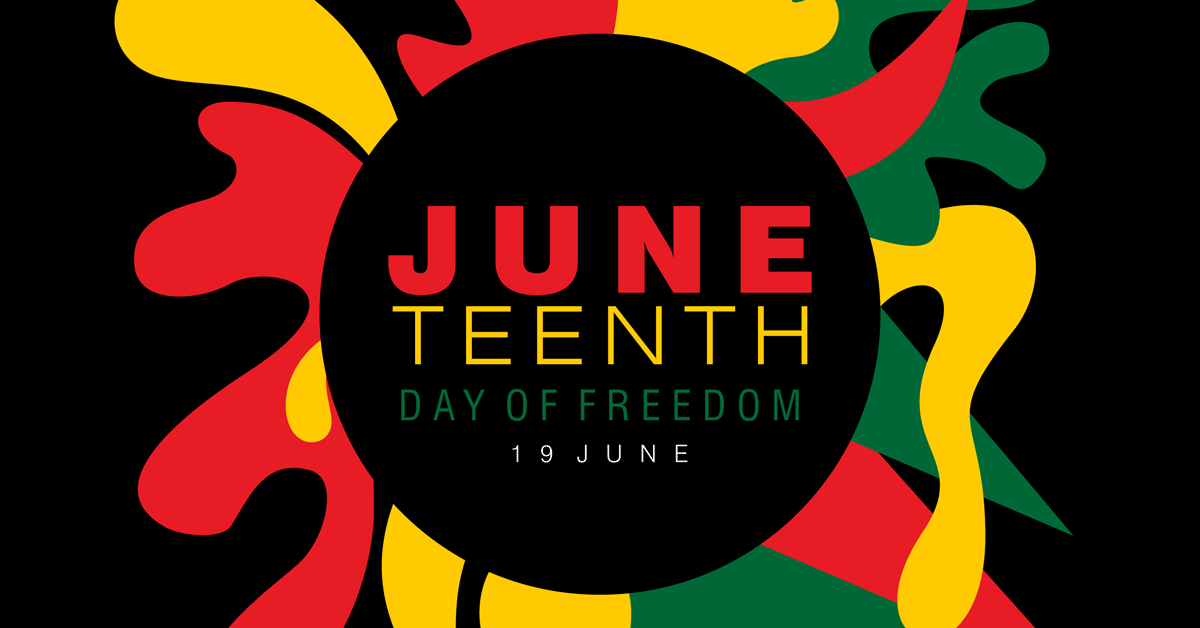 2 min read
With June being Pride month and remembering Juneteenth, it's also a time when many companies reflect on their Diversity, Equality and Inclusivity...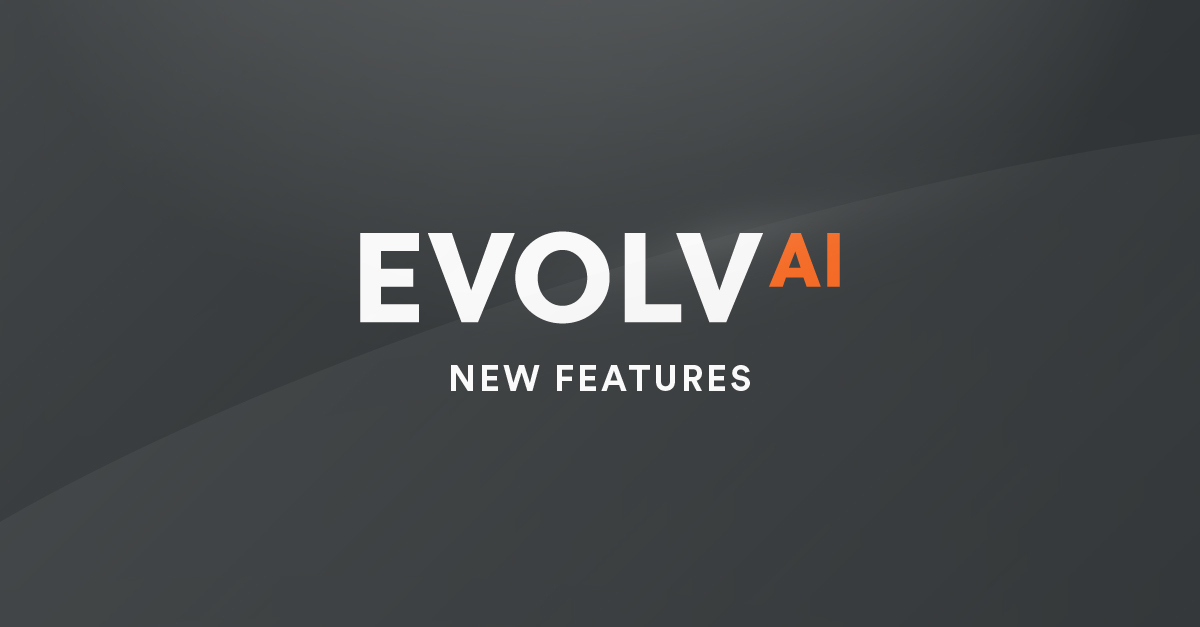 3 min read
At Evolv, we're passionate about helping companies grow by perfecting their digital customer experience. Evolv's powerful machine learning and...