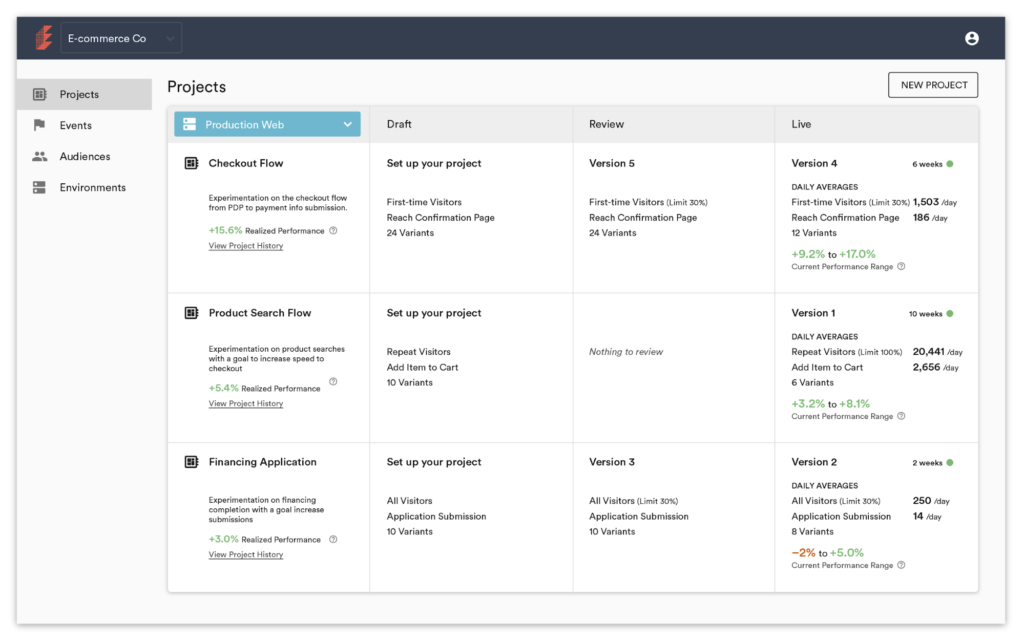 Perfecting the Digital Customer Experience Just Became Easier: Introducing the New Evolv Manager
At Evolv, we're passionate about helping companies grow by perfecting their digital customer experience. Evolv's powerful machine learning and automation helps our customers experiment with all of their ideas, everywhere, all the time.
Perfecting the customer experience requires the ability to run a sophisticated experimentation program, which demands a robust solution to manage all of your experiments in one place.
That's why we're excited to announce that the new Evolv Manager will be generally available (GA) in May. The Evolv Manager streamlines the way our customers configure, review, and run experiments across all their environments, including web, mobile, and server-side (an example of the latter: an experiment that helps you optimize search results or prices). The Evolv Manager also makes it easier to set up and manage experiments as well as audience segments, and helps companies gain better insights through enhanced reporting.
Advantages of the Evolv Manager
We had three main goals in mind when designing the Evolv Manager.
Visibility
First, we wanted to help our customers clearly understand how their experiments have performed and easily report on the resulting improvements. The Evolv Manager offers comprehensive analytics and reporting capabilities, so you're never in the dark about how your experiments are helping move the needle.
All-Inclusive
Second, we heard from many of our customers that they not only want an easy way to experiment on their websites, but also want to experiment on their mobile apps and other back end aspects of the user experience as well. So we built the Evolv Manager with full-stack optimization in mind, allowing our customers to experiment anytime, anywhere. Of course, for companies that simply want to use Evolv to experiment on their websites through a JavaScript tag, we also offer the best-in-class Evolv Web Editor, recently rebuilt from the ground up as a powerful desktop application.
Foundational
Finally, we wanted to lay a strong foundation for Evolv's next major feature release, Continuous Optimization, which makes it possible for companies to move past traditional start-and-stop testing by allowing you to add and remove ideas from your experiment as insights are discovered. More on that soon!
How It Works
While crafting the Evolv Manager, we carefully took into account feedback from our existing customers as well as best-of-breed functionality and designed an interface that reflects familiar workflows. An intuitive system of Projects, Environments, and Audiences makes it simple to design your experiments.
When you first open the Evolv Manager, you land on the Projects page, where you can start configuring the user journeys you want to optimize. This page makes it simple to see at a glance how each project is performing and provides you with key information about each project, such as projected performance and the number of people in each experiment.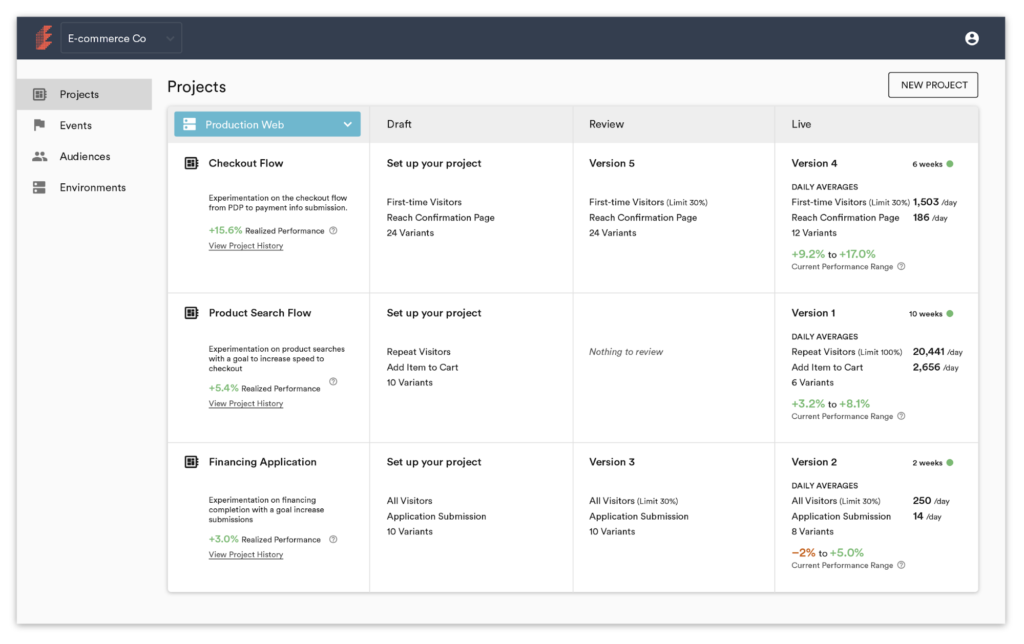 Environments allow you to test your implementation before going live. You can create and define environments in accordance with your deployment process. For instance, you can create a "staging" environment and link it to your staging server.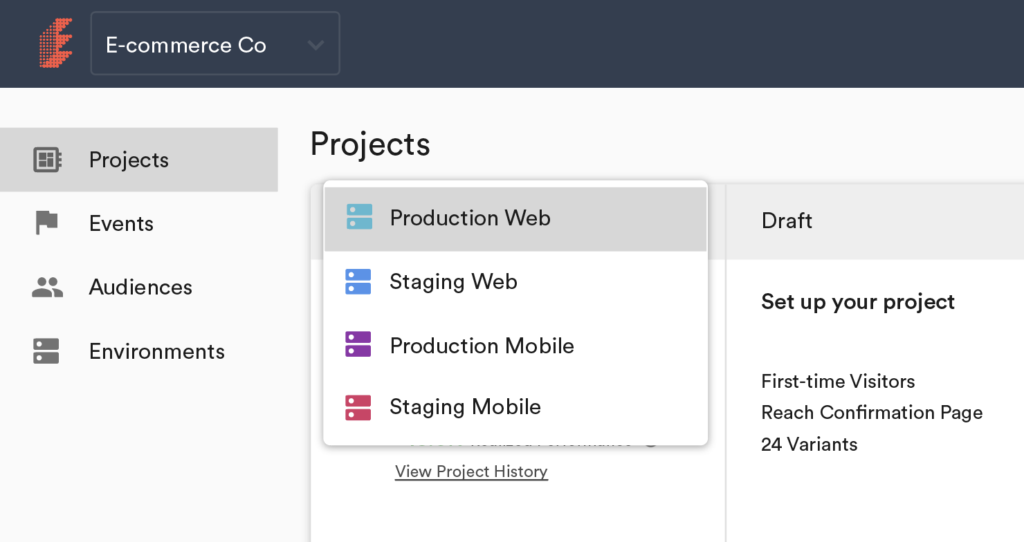 Audiences let you segment your users into logical groups. For example, you can divide users into new vs. existing, or divide them by country. Or, if you're optimizing your mobile app, you can choose to segment users based on whether they're using iOS or Android. And if you maintain your audience segments in another tool, they can be easily imported into Evolv.
A simple workflow (draft, review, and live) makes it easy to understand where you are in the process of designing and deploying projects. This helps ensure that the experiments you design are properly reviewed before they impact end users.
The Evolv Manager makes it easy for our customers to view how previous experiments have performed. By preserving this store of knowledge, teams can learn from past experimentation and continue to improve their optimization program.
Last but not least, Evolv Analytics enables teams to track and measure precisely which ideas are having the biggest effect on the key performance indicators (KPIs) you've identified. Companies can see in real time which variants are performing better than control as well as their projected impact. Through the Reporting API, you are also able to bring Evolv's data-driven insights and results into third-party analytics tools, like Adobe Analytics, Google Analytics, Looker, and Tableau.
---
World-class organizations across different industries, including retail, media & communications, travel & hospitality, and financial services, use Evolv's powerful machine learning and automation to continuously discover more winning ideas and immediately harvest their gains. We're excited to roll out the Evolv Manager in May and help even more companies realize the power of continuous optimization.
Interested in learning more? Check out our documentation and learn more about Evolv.
Subscribe
Get updates as we post industry relavent content to our blog