Two New Features to Help Keep on Top of Optimization Projects
As we head into Spring, we are introducing new features into the Evolv Platform to improve workflows:
Exportable Project Overview - to help streamline the quality assurance process
Activity Feed - ensures users are up to date with changes to an optimization
Exportable Project Overview
Consistent quality assurance (QA) is critical to de-risk the launch of any optimization project. One of the most important aspects is having a clear acceptance criteria so that QA tasks can be handed from one team to another. To streamline this process, we've created the Exportable Project Overview.
This new feature generates a PDF that includes screenshots of all the variants in a project, along with reference URLs to quickly and easily validate that the experience renders across different browsers as expected. This makes the QA process faster and more reliable. An added benefit of using a PDF format is that it makes it easy to hand off work to external consultants without requiring them to have a login to the Evolv Manager.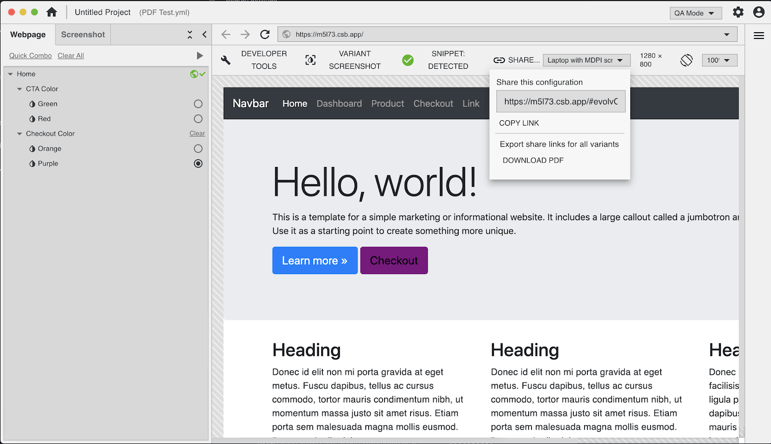 Activity Feed
We added an activity feed to eliminate the time-consuming task of finding the cause of changes to an optimization project. The innovative nature of our long running projects, made possible by Continuous Optimization, makes this even more important.
Now, we've taken the vital info that would've taken time to search for and put it in one place which is easy to access. This means that if your project is running well, you can find out exactly what changes have helped bring that about, who changed it (either automated by the platform or by a specific user), and when. This gives strategic insight for what kinds of ideas and actions are having a positive impact over time.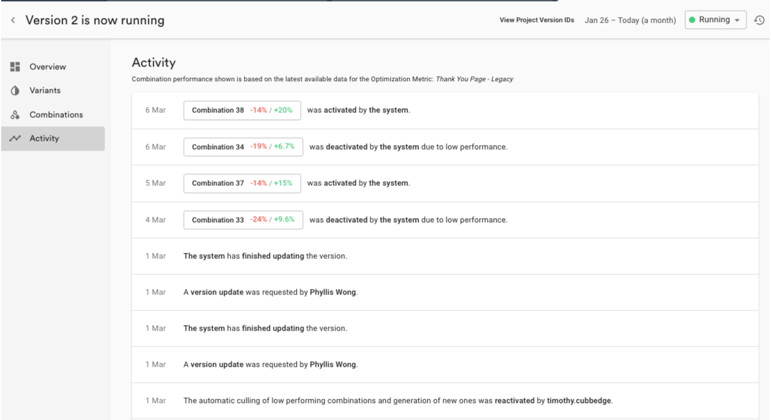 These two features are aimed at helping you stay on top of optimizations and workflows. If you have specific questions on these enhancements, please contact your Evolv account team.
Subscribe
Get updates as we post industry relavent content to our blog